The Vital Simulation Airbus FMGS Aid is designed to be an introduction to the Airbus FMGS and MCDU, it will introduce the user to the way in which Airbus A319,A320,A321,A330 and A340 aircraft have their flight plans entered, and navigated.
The Airbus FMGS Aid runs in a real time manner closely simulating the performance of a real Airbus MCDU,and FCU. It is designed to introduce the concepts of the Airbus FMGS and allow users to enter flight plans, simulate flying them and modify them on route. It is not a certified training aid, but does have considerable capability of demonstrating the use of the Airbus FMGS found in the Airbus FBW aircraft.
Enter Company routes, create routes, enter SIDs and STARs , direct To
Use Lateral Functions , Vertical Functions, Alternate destination , in flight route modifications
INIT data entry, performance information, fuel predictions, constant Mach settings
Progress pages, report pages, flight plan print pages,
Data pages, position monitoring, Equi - Time point page
Joy stick interface, Full Autopilot and Auto-throttle interface with MCDU.
Ability to simulate the flight of the entered route,from takeoff to landing
Simulated Nav Control Panel, Nav Display, FCU and MCDU and PFD
The Airbus FMGS Aid is a Microsoft Windows dialog application that requires nothing more than a normal Windows PC or laptop. No need to run any other flight simulation. This is an all in one FMGS simulation.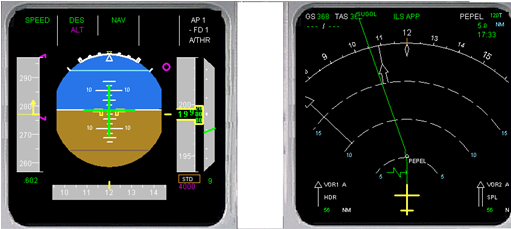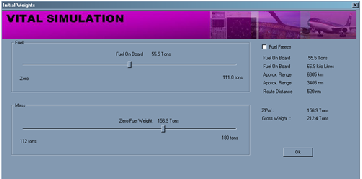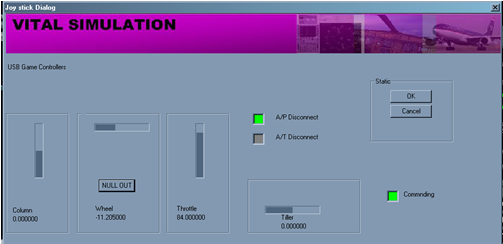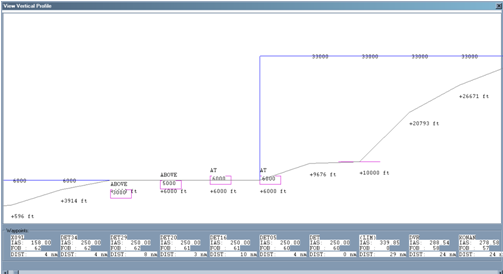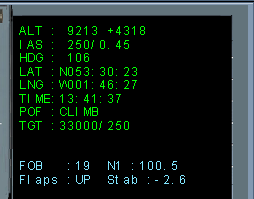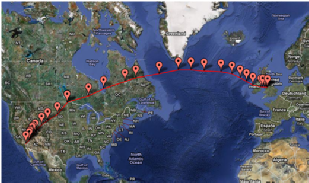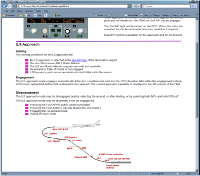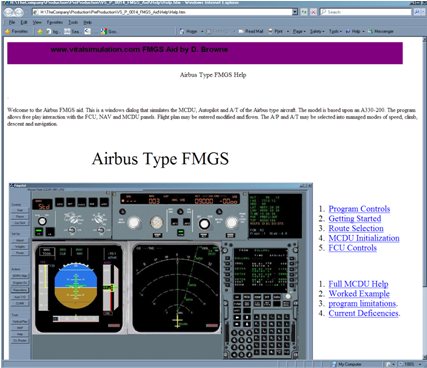 Simulated fully functional FCU and Nav Control Panel.
Route maps, showing the route and the actual path flown.

Arch, Rose and plan view NAV displays, showing all waypoints, VOR, NDB, airports and route information are available.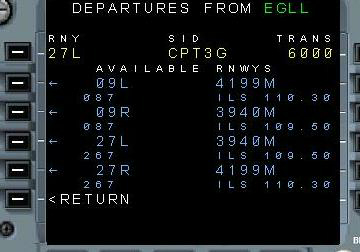 The worlds airports database is supported by a full runway data base allowing accurate runway and SID departures to be entered and viewed.
Pop out dialogs to allow reposition, initialize weights etc.


Joy stick interface, or an Auto take off function that allows the Aircraft to fly the entered route.
Fully functional A/P model and F/D available

A Vertical Profile dialog may be used to visualize the vertical profile of the designed route. This can be useful to see the differences step altitudes may make, or what the descent profile may look like.

The FMGS Aid incorporates the FMGS Guide. A full color, HTML help file showing all the important points for the FMGC, FCU, A/P, A/THR and MCDU.

An information screen exists to show the position, altitude and speed of the simulated aircraft against the MCDU target altitudes and speeds, as well as useful information about route discontinuity or hold status.

Simulated fully functional MCDU, with all pages available.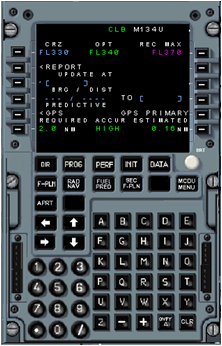 Designed for Familiarization of the Airbus MCDU, FCU, A/P and A/THR. Must not be used for actual aircraft operations



A message bar explaining to the user about MCDU data input formats, or FMGS events.